The Small Cinema * Sunday (August 2, 2009) * 6:00 p.m.
Puławy * Friday (August 7, 2009) * 4:30 p.m.
Yoko Ono's Cups, Poland (PL) 2009, colour, 22 min.

dir Andrzej Mańkowski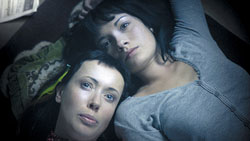 Story of tearing away from own roots in search for oneself. 19-years-old Janka comes from a catholic family. She lives with her parents in a small polish town near the Russian border. One day she meets an eccentric Russian – Sara. Emotions consequential to this become for Janka a beginning of a set of humiliations.


Andrzej Mańkowski (1973)
Director, film producer, composer and culture manager; graduate of Music Academy In Gdansk and the College of Scriptwriting at the National Film, Television & Theatre School in Lodz; collaborates with the outstanding Polish documentary-maker Jacek Bławut; chief of The HARPOON FILMS Film Studio from Gdynia (Poland).