Story of a Missing Car, A
The Small Cinema * Monday (August 3, 2009) * 2:20 p.m.
A Story of A Missing Car, Poland (PL) 2009, colour, 12 min.

dir Grzegorz Jaroszuk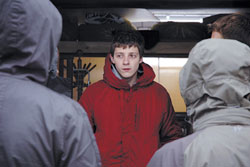 At first it's loud. Then it's really quiet. Film about a strange family.


Grzegorz Jaroszuk
Born in Warsaw in 1983. In 2005 he started his studies at the directing department of the Polish National Film School. Author of short documentaries ("Wszystko jest", "Biblioteka") and short fiction ("Ostatni dzień", "A Story of A Missing Car").