The Small Cinema * Monday (August 3, 2009) * 10:00 p.m.
Small Market Square * Saturday (August 8, 2009) * 9:00 p.m.
Inside-outer, Poland (PL) 2008, colour, 5 min. 33 sec.

dir Andrzej Jobczyk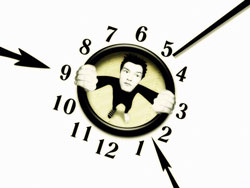 It's early morning and the main character wakes up. While dressing up, he suddenly is enchanted by the process of turning the sock inside out. Moment after he decides to check what else can he turn inside out.


Andrzej Jobczyk (1985)
Graduated from Art School in Lublin. Student of the Animation and Special Effects Faculty at the Lodz Film School.