PGE Cinema * Friday (August 7, 2009) * 10:00 p.m.
Mall Girls; Poland (PL) 2009; colour; 82 min.

dir Katarzyna Rosłaniec pro Włodzimierz Niderhaus cpro S.F.OKO sce|sc Katarzyna Rosłaniec ph Witold Stok mus Adam Ostrowski mon|ed Wojciech Mrówczyński, Jarosław Kamiński, Kamil Czwartosz cast Anna Karczmarczyk, Dagmara Krasowska, Dominika Gwit, Magdalena Ciurzyńska, Iza Kuna, Artur Barciś, Franek Przybylski art cons Robert Gliński dis Monolith Films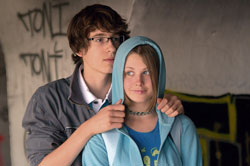 14 years old Alice changed school in the midyear and feels lonely in the new environment. One day, classmate proposes her escapade to the shopping mall, where one can see beautiful clothing and expensive cosmetics, eat tasty ice-creams instead of regular lunch, listen to the music and meet potential sponsors, thanks to whom one can have all of those luxury things...


KATARZYNA ROSŁANIEC
Film director. Graduated from Gdansk University (specialization Economy), Warsaw Film School (specialization Film Directing) and Andrzej Wajda Master School of Film Directing (Feature Course).