Story Of A Certain Promotion, A
The Small Cinema * Friday (August 7, 2009) * 4:00 p.m.
Story Of A Certain Promotion, A, Poland (PL) 2008, colour, 7 min 57 sec.

dir Tomasz Pawlak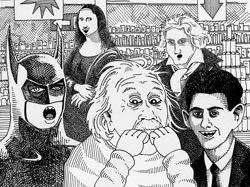 Action of the film takes place in the supermarket visited by different people. Because of one small chance their fates are brought together. As with domino, where one piece pushes the other, our protagonists, not knowing each other, create kind of a chain of activities, which in consequence influence film's epilogue.


Tomasz Pawlak
He graduated from the Academy of Fine Arts in Lodz and Warsaw Film School. He made his first animated film in Lodz in 2005. Up to now he has made six authorial films.