The Small Cinema * Sunday (August 2, 2009) * 2:00 p.m.
The Son, Poland (PL) 2009, colour, 28 min.

dir Jan Wagner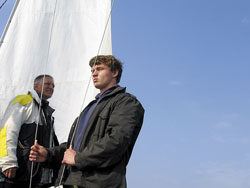 The Mazurian Lakes district off season. .

Father and son on the sailing boat.

Short film about love.


Jan Wagner
Born in 1975. Studied psychology, theatre arts studies, film and scriptwriting in Berlin. Currently studies at the Polish National Film School in Lodz. He is an author of several fiction and documentary shorts "Mój Brat", "Próba", "Porno", "Pod Opieką" and "Służba Zastępcza".