The Small Cinema * Sunday (August 2, 2009) * 6:00 p.m.
Sleepwalkers, Poland (PL) 2009, colour, 28 min. 40 sec.

dir Maciej Sterło-Orlicki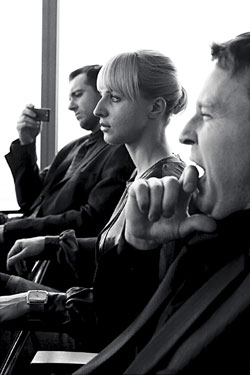 Wacek is afraid that his former cooperation with communistic security services (SB) will emerge. His wife, Grażyna, puts all of her anger into fighting a rat in the kitchen. And their daughter Kama, is someone who is tempted by modern world, drew in and then spat out by it.


Maciej Sterło-Orlicki
Graduate of political science, journalism and Andrzej Wajda Master School of Film Directing. Film and theatre director, dramatist and screenwriter. Also author of commercials, music videos and mass concerts.