Great Cinema in Small Market Square * Sunday (August 2, 2009) * 9:00 p.m.
The Small Cinema * Monday (August 3, 2009) *10:00 p.m.
France (FR) 2007, colour, 8 min. 50 sec.

dir Frédéric Sofiyana, Mathieu Grousson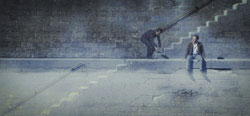 What is this strange force that pushes a man into writing to himself a letter every day?...


Frédéric Sofiyana (1972)
Frédéric Sofiyana has directed advertising (for Kenzo, Thierry Mugler, AOL) as well as experimental movies (Evo, Oniara). In 2005, he directed the short-movie "The Pool". "Ethal" is his latest movie.