PGE Cinema * Friday (August 7, 2009) * 12:00 p.m.

Dissmised From Life, Poland (PL) 1992, colour, 87 min.

dir Waldemar Krzystek pro Studio filmowe (d. Zespół Filmowy) Zodiak, Jeck Film (Paryż) sc Waldemar Krzystek ph Dariusz Kuc mus Zbigniew Preisner ed Krzysztof Osiecki, Francoise Lefevre cast Jan Frycz, Krystyna Janda, Suzel Goffre, Wojciech Wysocki, Gabriela Kownacka dis Filmoteka Narodowa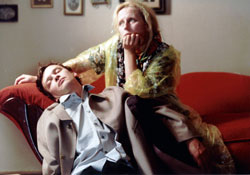 1989. While Marek is leaving work he meets strange woman, Elżbieta, and is led by her into a trap. Badly beaten he is being left at the waste dump. Close to death he lands in a hospital. His mother and brother find him there, but Marek doesn't recognize them. He, however, recognizes Elżbieta, who unexpectedly visits him. Marek suffers from amnesia, but he associates the woman with danger. He runs away from the hospital. Marek's brother, Jan, is politician and he rightly assumes, that disappearance (kidnapping?) of his brother from the hospital is a blackmail attempt, so he wouldn't testify in trails against former security service officers, which are being prepared. Meanwhile, Marek's whereabouts is a subject of concern not only for his family, but also for people who beat him up...