The Small Cinema * Saturday (August 8, 2009) * 12:00 p.m.
Cowboy, Germany (DE) 2008, colour, 35 min.

dir Till Kleinert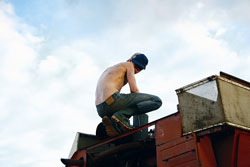 Christian works for a real estate company and travels the countryside looking for land to buy. In a seemingly deserted village he finds a boy repairing a huge combine harvester. Their encounter will have surprising and dark ending...


Till Kleinert
Film director, writer, editor. His "Cowboy" was awarded at the Iris International Gay Festival in 2008.