Puławy * Tuesday (August 4, 2009) * 4:30 p.m.
Make Up Removal; Polnad (PL) 2009; colour; 90 min.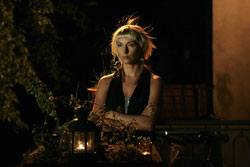 Film "Make Up Removal" consist of three shorts:
Non-stop kolor
Non-stop Color
dir Maria Sadowska pro Stowarzyszenie Filmowców Polskich sc Maria Sadowska ph Jeremi Prokopowicz cast Anita Jancia, Joanna Szczepkowska, Jan Wieczorkowski, Eryk Lubos, Paweł Domagała, Anna Piróg, Karina Kunkiewicz, Dorota Deląg
30 year old Muza wakes up in the morning under the statue of Chopin in Lazienki Park. She doesn't remember how she got there, she can't find her car.
Maria Sadowska - Film director, singer, composer, arranger and producer. Graduated from Academy of Film and Television in Warsaw and from the Directing Faculty at the National Film School in Lodz.
Droga wewnętrzna
Inner Road
dir Dorota Lamparska pro Stowarzyszenie Filmowców Polskich sc Dorota Lamparska ph Damian Pietrasik cast Adam Woronowicz, Krzysztof Stroiński, Grażyna Barszczewska, Jadwiga Jankowska-Cieślak, Borys Szyc, Magdalena Cielecka, Edward Sosna, Robert Wabich, Krzysztof Skarbiński, Kajetan Lewandowski
30 year old man, successful yuppie, wakes up one morning and as usual drinks his coffee, gets ready for work. In the doors of stairway he stops due to invisible barrier.
Dorota Lamparska - Film and TV director, scriptwriter, graduate of Radio and Television Faculty at the Krzysztof Kieslowski Silesian University in Katowice.
Pokój szybkich randek
Quick Dates Room
dir Anna Maliszewska pro Stowarzyszenie Filmowców Polskich sc Anna Maliszewska ph Dominik Danilczyk cast Magdalena Czerwińska, Łukasz Simlat, Marian Dziędziel, Ewa Lorska, Elżbieta Jarosik, Anna Deka, Mariusz Wojciechowski
Natalia and Artur are married for two years, when drunken Artur causes a car accident. Eight years of sentence awaits them – him in prison, her out of it.
Anna Maliszewska - She learned art of filming in practice, not in any film school. She graduated from Journalism at the Warsaw University. For many years now she cooperates closely with music television, she co created MTV in Poland.