The castle in Kazimierz Dolny * Monday (August 3, 2009) * 10:00 p.m.
Los viajes del viento / The Wind Journeys, Columbia (CO) 2009, colour, 117 min.

PREMIERE

dir Ciro Guerra pro Cristina Gallego, Diana Bustamante, Ciudad Lunar Producciones sc Ciro Guerra ph Paulo Andrés Pérez mus Iván "Tito" Ocampo ed Iván Wild cast Marciano Martínez, Yull Núñez dis Elle Driver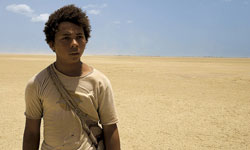 Ignacio Carrillo traveled all his life throughout the villages and regions of northern Colombia, carrying music and traditional songs on his accordion, a legendary instrument that is said to be cursed, because it once belonged to the devil. As he became older, he got married and settled with his wife in a small town, leaving his nomadic life behind. When she suddenly dies, he decides to make one last journey to the Northern edge of the country, to return the accordion to the man who gave it to him, his teacher and mentor, so he will never play it again. On the way, he is joined by Fermín, a teenager who dreams of becoming a "juglar" like Ignacio.

Presented at Cannes Film Festival 2009 – Official selection: Un certain Regard, Award of the City of Rome.

Trailer: see

Ciro Guerra (1981)
He studied cinematography at the National University of Colombia. At the age of 23, after having directed multi-award-winning shorts, he wrote, produced, and directed his first feature, "The Wandering Shadows", acclaimed at festivals all over the world.