Great Cinema in Small Market Square * Saturday (August 1, 2009) * 9:00 p.m.
Puławy * Monday (August 3, 2009) * 4:30 p.m.
Burn After Reading, USA (US) 2008, colour, 96 min.

dir Ethan Coen, Joel Coen pro Ethan Coen, Joel Coen sc Ethan Coen, Joel Coen ph Emmanuel Lubezki mus Carter Burwell ed Roderick Jaynes cast George Clooney, Brad Pitt, Frances McDormand, John Malkovich, Tilda Swinton, Richard Jenkins dis Best Film Co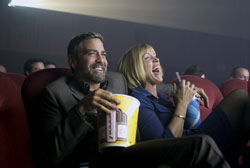 Osbourne Cox (John Malkovich) is a secret CIA agent, who is trying hard not to loose his job. Harry Pfarrer (George Clooney) works at the Ministry of the Treasury and among his many lovers there is an unhappy Osbourne's wife. One day Ozzie looses his job. He decides to write about secret CIA activities. He doesn't realize though, that truly he doesn't know a thing... Draft of his memories happen to get into one of Harry's lovers hands, mad gym worker Litzke (Frances McDormand) and her stupid colleague Chad Feldheimer (Brad Pitt), who are convinced that it is a golden opportunity for money making

Trailer: see

Ethan Coen, Joel Coen
Film directors, scriptwriters, producers. They write scripts and direct films together. They both received many film awards. Their best known films are: "Fargo", "Barton Fink", "No County For Old Men", "Big Lebowski", "Raising Arizona" and "Hudsucker Proxy".