The Small Cinema * Saturday (August 1, 2009) * 6:00 p.m.
Rabbit a la Berlin/Mauerhase, Poland - Germany (PL-DE) 2009, colour, 52 min.

dir Bartek Konopka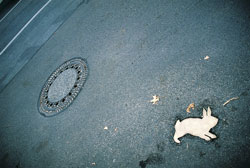 Story about thousands of wild rabbits, which inhabited Berlin Wall's death zone. For 28 years they lived there locked, but safe. Unfortunately, one day the wall fall down and rabbits had to find new place for themselves. Film is an allegory familiarizing Eastern Europe's history from the "rabbit" perspective.


Bartek Konopka
Born in 1972. He finished three faculties: film directing, journalism and film studies. Took part in Andrzej Wajda Master School of Film Directing documentary and feature courses. Laureate of Nipkow scholarship in Berlin.