The Small Cinema * Monday (August 3, 2009) * 4:10 p.m.
Dead Man's Coughing, Poland (PL) 2008, colour, 22 min.

PREMIERE

dir Krzysztof Borówka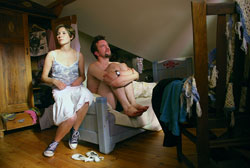 Is it likely that in a godforsaken small town you can still meet a witch? Does a pig bring good luck and can deliver a man from diseases?

Ed, a cynical and jaded political figure leaves Warsaw and comes to a small town to solicit for votes and strike a dodgy deal with a local mayor. Magical rites performed by mayor's housekeeper accompanied by his daughter, an episode with a drowned body and a peculiar friendship with a pig will change his live forever.


Krzysztof Borówka
Author of documentaries and features. Director of commercials and concerts. Works as a second director and assistant in feature movies, assists at the Silesian Opera.