PGE Cinema * Saturday (August 1, 2009) * 2:00 p.m.
The Age of Stupid, Great Britain (UK) 2009, colour 92 min.

dir Franny Armstrong pro Lizzie Gillett, Spanner Films sc Franny Armstrong ph Lawrence Gardner mus Chris Brierley ed David G. Hill dis Against Gravity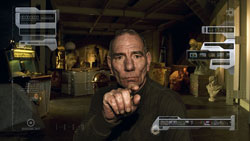 2055. After cataclysm last men built a shelter, in which as in biblical Ark, last specimens of animals, insects and flora are kept. Guardian of this very odd place (Pete Postlethwaite) browses through archival materials from the past and asks why hadn't we stop climate changes on Earth, when it was still possible.

Trailer: see

Franny Armstrong (1963)
She started her directing career at the age of 7... – with a school project "Who killed Mr Fisher". Her documentary debut "McLiebel" (BBC 2005) had over million viewers. Climate changes on Earth is one of her favorite subjects.