PGE Cinema * Wednesday (August 5, 2009) * 9:00 p.m.
Yes men fix the world, United States (USA) 2009, colour, 85 min.

dir Andy Bichlbaum, Mike Bonanno, Kurt Engfehr pro Doro Bachrach, Ruth Charny, Laura Nix The Yes Men sc Andy Bichlbaum, Mike Bonanno ph Raul Barcelona mus Neel Murgai, Noisola ed April Merl cast Andy Bichlbaum, Mike Bonanno dis Against Gravity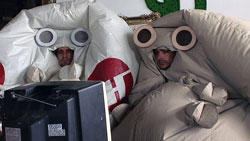 "(..) and nobody really found any problems with the content of the lecture. The only real negative reaction was from one woman who was appalled that we seemed to be saying that only men could be factory owners, because of the shape of the leisure suit. The footage of all that exists but we didn't use it because it wasn't good quality, the cameras couldn't be too obtrusive."

Andy Bichlbaum, director, a Yes Man

Presented at Berlinale 2009, section: Panorama Dokumente, Panorama Audience Award.

Trailer: see

Andy Bichlbaum
His real name's Jacques Servin, is part of "The Yes Men" team. He has managed to conceal his true identity ever since.
Mike Bonanno
Real name Igor Vamos, he is a media artist living in Albany, New York. A lecturer at Polytechnic, he is one of the brains behind "The Yes Men". Like his colleague, he has successfully concealed his true identity.
Kurt Engfehr
He edits television productions and documentaries. Since 2002 he has also been working as a producer on Michael Moore's documentaries, among others.