PGE Cinema * Monday (August 3, 2009) * 11:30 p.m.

Interrogation, Poland (PL) 1982, colour, 111 min.

dir Ryszard Bugajski pro Zespół Filmowy X sc Ryszard Bugajski ph Jacek Petrycki ed Katarzyna Maciejko cast Krystyna Janda, Adam Ferency, Janusz Gajos, Agnieszka Holland, Anna Romantowska, Bożena Dykiel, Olgierd Łukaszewicz dis SF Perspektywa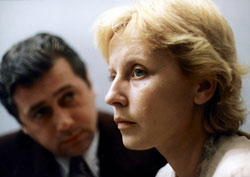 This is a legendary film described by communistic authorities as "the most anti-communistic film in the history of People's Republic of Poland". It had its premiere in 1989 during Polish Feature Film Festival in Gdynia.

Beginning of the fifties. Antonia Dziwisz drives around with a troupe and performs for workers and peasantry. During one evening two men in the restaurant drink her under the table and take her to a prison. Everlasting, hopeless interrogation begins. Major who interrogates her informs that her colleague from the troupe is being accused of country treason and spying. With beating and tortures he tries to force Tonia to sign the testimony that her colleague is guilty. The girl doesn't give up...