The Small Cinema * Sunday (August 2, 2009) * 8:00 p.m.
Poland (PL) 2008/2009, colour, 14 min. 30 sec.

dir Magnus von Horn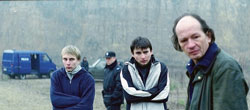 Two boys have murdered a young girl. Through crime reconstruction and meeting the family of the victim they now have to relive the brutal crime they committed and confront the feelings they felt and still feel.


Magnus von Horn
Born in 1983. He studied film theory at the University of Göteborg. Worked as lightning assistant and camera assistant on several Swedish film productions between 2003 – 2004. Started his studies at the directing department of the Polish National Film School (PWSFTviT) in 2004.