Puławy * Thursday (August 6, 2009) * 4:30 p.m.
Great Cinema in Small Market Square * Sunday (August 2, 2009) *9:00 p.m.
Vals im Bashir / Waltz with Bashir, Israel-Germany-France (IL-DE-FR) 2008, colour, 87 min.

dir Ari Folman pro Gerhard Meixner, Ari Folman, Serge Lalou, Roman Paul, Yael Nahlieli sc Ari Folman mus Max Richter ed Feller Nili voi Yehezkel Lazarov, Mickey Leon, Ron Ben-Yishai, Ronny Dayag, Ari Folman, Dror Harazi dis Against Gravity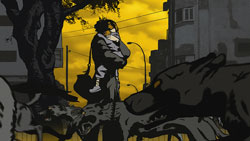 One night at the bar an old friend of the film director, Ari, tells him about a returning nightmare in which he is chased by 26 bad dogs. Men come to a conclusion, that it is connected with their mission in the Israeli army during the first Lebanon intifada at the beginning of the eighties. Surprised Ari realizes, that he can't remember a thing from this period of his life. Intrigued by this mystery he decides to meet with his old friends and companions around the world and ask about it. He needs to learn the truth about this time and about himself. Moving and scary animated documentary concerning recent Middle East history.

Trailer: see

Ari Folman (1962)
Director of documentaries, author of scripts to couple of tv series. Between 1991-1996 he produced for tv documentary materials from the occupied territory. In 1996 he wrote and directed feature "Saint Clara" based on a novel by Czech writer Pavel Kohout.