The Small Cinema * Saturday (August 1, 2009) * 2:00 p.m.
Blackout, Brazil (BR) 2008, colour, 10 min.

dir Daniel Rezende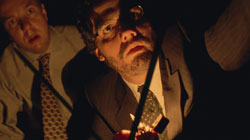 At the end of a tough workweek an assistant congressman and his friend go to an abandoned room in the Capitol building to relax and smoke a joint. While trying to unwind the assistant congressman complains about his job. He is doing all he can to cover up his boss' scandalous sex affair but nothing seems to be working. "Things can't get any worse", he proclaims . . . but they do!


Daniel Rezende
After working as a film editor on Fernando Meirelles' BLINDNESS and CITY OF GOD, Walter Salles' MOTORCYCLE DIARIES and DARK WATER, and Jose Padilha's ELITE SQUAD, Sao Paulo native, and Academy Award nominee, Daniel Rezende directs his first film, BLACKOUT. Daniel is currently working with Terrence Malick.