PGE Cinema * Tuesday (August 4, 2009) * 2:00 p.m.
Bulgaria (BG) 2008, b&w, 92 min.
dir Javor Gardev pro Georgi Dimitrov, Ilian Djevelekov, Matey Konstantinov, Miramar Film sc Vladislav Todorov ph Emil Hristow mus Kalin Nikolov ed Kevork Aslanyan cast Zahary Baharov, Tanya Ilieva, Vladimir Penev dis Montecristo Entertainment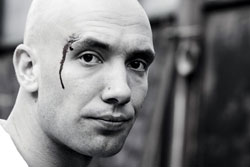 It all happens during one night. Main character, Moth, is just leaving prison, where he unfairly served his time for murder. He got in prison just before the communistic revolution of 1944, so now he is facing new and totally different reality – totalistic Sofia of the sixties. His first night in freedom is at the same time a moment, when the whole hell and daemons of new reality are being unleashed.

Presented at Thessaloniki International Film Festival 2008.

Trailer: see

Javor Gardev (1972)
He graduated from Sofia University (faculty philosophy) and National Film and Theatre Academy (faculty film directing). He directed more than 20 spectacles. "Zift", which was awarded for best directing at the 30th IFF in Moscow, is his feature debut.