The Small Cinema * Saturday (August 1, 2009) * 2:00 p.m.
The Small Cinema * Wednesday (August 5,a 2009) * 2:00 p.m.
The City Sails On, Poland (PL) 2009, colour, 17 min.

dir Balbina Bruszewska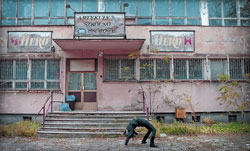 Poland is situated in the centre of Europe, and in the centre of Poland there is Lodz. The name of it means "a boat" although there is no active river nearby and there are no water basins around. Escapes from Lodz (from "a boat") happen most often through the dry land to Warsaw and Great Britain. But many return because the closest world is where the heart and memories live.


Balbina Bruszewska
Born in 1982. Author of short animations, video clips, above 100 TV programmes and documentaries. Her short "The City Sailes On" was awarded among others with main prize for the Best Polish Film 2009 at the Int. Animated Film Festival ReAnimacja.