PGE Cinema * Sunday (August 2, 2009) * 20:30 p.m.
PGE Cinema * Saturday (August 8, 2009) *3:30 p.m.
Away We Go, United States-Great Britain (US-GB) 2009, colour, 98 min.

PREMIERE

dirSam Mendes pro Sam Mendes, Edward Saxon, Marc Turtletaub, Peter Saraf sc Dave Eggers ph Ellen Kuras mus Alexi Murdoch ed Sarah Flack cast John Krasinski, Maggie Gyllenhaal, Shirley Rumierk, Gary Cherkassky, Finnerty Steeves, Audrey Amey, Josh Hamilton, Steve Antonucci dis Best Film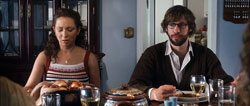 Burt and Verona expects a child. Pregnancy runs without any complications, but after six months, eccentric parents of Burt, Jerry and Gloria (Jeff Daniels and Catherine O'Hara) make an unpleasant surprise, announcing lightly, that they are moving out from Colorado, what deprives young parents-to-be main reason for staying there.

So where Burt and Verona should strike their roots, in order to bring up their little one? Couple sets off on a wild journey, to visit friends and family and to take a look at chosen cities. Premiered at the Edinburgh Film Festival 2009 - opening movie.

Trailer: see

Sam Mendes (1965)
Oscar winner for "American Beauty". His Other films include "Road to Perdition" (Oscar for Best Cinematography), "Jarhead", "Revolutionary Road" (Golden Globe for Kate Winslet). Sam Mendes is also known for establishing Donmar Warehouse theatre in London.