Great Cinema in Small Market Square * Sunday (August 2, 2009) * 9:00 p.m.
Different Story, Poland (PL) 2008, colour, 7 min.

dir Paweł Dębski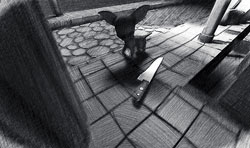 Main hero of movie is knife. Series of unfortunate events causes that he finished his kitchen knife career on a street. It provokes him to tell stories, which discover who he was, where and how he lived and why he has been thrown out from kitchen.


Paweł Dębski (1985)
He studies at the National Film School in Lodz. In 2007 he created his first film "Hair Nightmare", which had been presented on many national festivals e.g.: ERA New Horizons, Łodzią Po Wiśle, OFAFA in Cracow.