PGE Cinema * Monday (August 3, 2009) * 9:30 a.m.
PGE Cinema * Saturday (August 8, 2009) * 1:30 p.m.
Mary and Max, Australia (AU) 2008, colour, 92 min.

PREMIERE

dirAdam Elliot pro Melanie Coombs sc Adam Elliot ph Gerald Thompson anim Darren Burgess, Dik Jarman, Anthony Lawrence, John Lewis, Jason Lynch, Craig Ross mus Dale Cornelius ed Bill Murphy voices Toni Collette, Philip Seymour Hoffman, Eric Bana, Barry Humphries dis Icon Entertainment International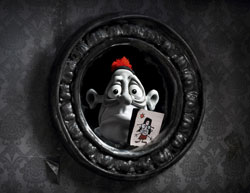 Mary is an eight-year-old girl growing up on the outskirts of Melbourne. She has a close friendship with her pen pal, Max Jerry Horovitz, a 44-year old New Yorker who suffers from a form of autism known as Asperger's syndrome. Max has no friends other than Mary, who sends him letters from a world that is entirely unknown to him. And Mary has Max, to whom she can put all her burning questions. In their letters, Mary and Max discuss such topics as their favourite cartoon, taxidermy, and their unease about the world at large.

Presented at Berlinale 2009, where it won Crystal Bear.Best Feature Film Award at Annecy International Animated Film Festival 2009.

Trailer: see

Adam Elliot (1972)
Born in Berwick, he grew up in the outback on a shrimp farm. When the farm went bankrupt the family moved back to Melbourne. He studied animation filmmaking at the Victorian College of the Arts where he made his first film, "Uncle", in 1996.