The Small Cinema * Monday (August 3, 2009) * 2:20 p.m.
Long-distance Runner, Poland (PL) 2008, colour, 15 min

dir Jacek Szarański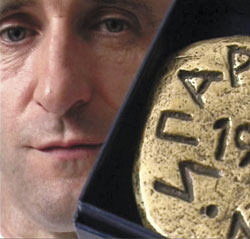 The protagonist of the film has 78 thousand kilometers in his legs. He trains ultramarathon - a unique and out-of-the-way sport in Poland. During two days of constant running he can make 378 km. What would have happened though, if eighteen years earlier, in the face of a family tragedy, he hadn't made certain decision?


Jacek Szarański
Author of short features and documentaries. Director's assistant on "Barbórka" and "Drzazgi" by Maciej Pieprzyca and "Hi Way" by Jacek Borusiński. In 2006 he collaborated with Beata Dzianowicz on documentary "Kites" (awarded in Locarno).