PGE Cinema * Sunday (August 2, 2009) * 11:30 a.m.
Katastrofin aineksia / Recipes for Disaster, Finland, Denmark (FI-DK) 2008, colour, 85 min.

dir John Webster pro Kristiina Pervilä Magic Hour Films sc John Webster ph Tuomo Hutri, John Webster snd Pietari Koskinen ed Nils Pagh Andersen, John Webster dis Against Gravity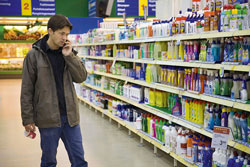 The film follows a young Anglo-Finnish family as they rid themselves of all oil-based products for a year. The challenge proves to be more emotionally difficult than the family anticipates and John, must find a balance between living oil-free and keeping a functional family. Filmmaker John Webster undertook this oil diet to see what happens when individuals take responsibility for their contributions to climate change. During this year-long diet, the family remains in mainstream society, continuing their suburban lives. But the emotional strain the diet puts on the family offers more drama disaster sets in.

Trailer: see

John Webster (1967)
Englishman born in Finland, multi award winner, beginning from his first movie "Pölynimurikauppiaat" (1993), through "Losing It" (1999), "What Comes Around" (2005) and finally his big recent success "Recipes for Disaster", which is his 8th film.