The Small Cinema * Wednesday (August 5, 2009) * 2:00 p.m.
Puławy * Friday (August 7, 2009) * 4:30 p.m.

To Be Loved, Poland (PL) 2009, colour, 13 min 30 sec

dir Aleksandra Jankowska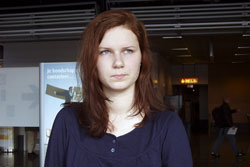 Karolina is starting a career as a model. She is young, beautiful, intelligent and sensitive. Sometimes she's crazy. She leaves for work in Paris, fools around with dog, her stomach is distended, she talks to her sister and mother, she has a purification diet, she cooks wild rice and sings when she brushes her teeth and when she wants to be loved.