Ryszard Kapuscinski's Last Book
Puławy * Wednesday (August 5, 2009) * 4:30 p.m.
The Small Cinema * Monday (August 3, 2009) * 2:20 p.m.
Ryszard Kapuscinski's Last Book, Poland (PL) 2008, colour, 57 min. 56 sec.

dir Beata Hyży-Czołpińska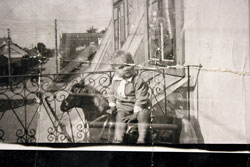 Ryszard Kapuściński, one of the most world well known and respected of Polish writers – died on 23rd of January 2007. He didn't have time to fulfill all of his plans. He didn't write a book, which was meant to be his last one, for which he collected materials for years. It was supposed to be a book about his birthplace – Pińsk at Podlesie (currently Belarus). This film "writes with images" this last book of a great Pole


Beata Hyży-Czołpińska
Since 1998 works in Bialystok Division of Polish Television (TVP). Author of documentaries and reportages. Co-operates with: TVP1 (Redaction of Documentaries), TVP2, TVP Culture and TVP Polonia.