Great Cinema in Small Market Square * Tuesday (August 4, 2009) * 9:00 p.m.
Puławy * Wednesday (Augudt 5, 2009) * 7:00 p.m.
Hiszpania-USA (ES-US) 2008, colour, 97 min.

dir Woody Allen pro Letty Aronson, Gareth Wiley, Stephen Tenenbaum sc Woody Allen ph Javier Aguirresarobe ed Alisa Lepselter cast Scarlett Johansson, Penélope Cruz, Javier Bardem dis Kino Świat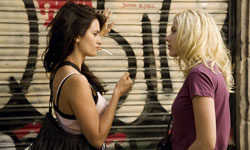 Two young Americans, Vicky (Rebecca Hall) and Cristina (Scarlett Johansson) arrive to Barcelona for holidays. Vicky, intelligent and tender, is about to get married. Cristina, open for emotional and sexual adventures is her complete opposite. During their stay in Barcelona both girls are drew in an unconventional romantic and sexual adventure with Juan Antonio (Javier Bardem), charismatic painter, involved in complicated and eventful relation with his ex-wife Maria Elena (Penelope Cruz).

Trailer: see

Woody Allen
Film director, scriptwriter, writer and musician. One of the most original modern film artists. He made close to 40 features. His last ones: "Cassandra's Dream", "Scoop", "Match Point", "Melinda and Melinda".