Small Market Square * Monday (August 3, 2009) * 9:00 p.m.
Happy-Go-Lucky, Great Britain (GB) 2008, colour, 118 min.

dir Mike Leigh pro Simon Channing Williams sc Mike Leigh ph Dick Pope mus Gary Yershon ed Jim Clarkobs cast Sally Hawkins, Alexis Zegerman, Eddie Marsan, Samuel Roukin dis Monolith Plus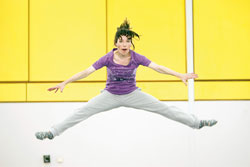 Poppy is a young teacher, who works in a few elementary schools. Free spirit, disarming directness and kindness toward others go hand in hand with character traits, which only few can bring together. Carefree and frivolous toward her friends, she can be self assured and tender in her work with riotous children. Driving lessons with neurotic instructor Scott will pose a challenge for her stress-free life. Will Poppy's humor and friendliness be enough to cicurate frustrated and churlish driving instructor?

Trailer: see

Mike Leigh
Scriptwriter, film-, theater- and tv director. Debuted with "Bleak Moments" (1972) and afterwards he abandon cinema. He returned in 1988, earning international fame with "High Hopes". Oscar Nominee 1977 for best script and directing in "Secrets And Lies".