Small Market Square * Thursday (August 6, 2009) * 9:00 p.m.
The Small Cinema * Monday (August 3, 2009) * 10:00 p.m.
Usual evening, Poland (PL) 2008, colour, 1 min 51 sec.

dir Adam Zienowicz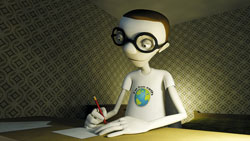 Inspired by a true story, which occurred in autumn 2007.


Adam Zienowicz (1983)
Student of the second year of Animation at the National Film School in Lodz. Earlier student of Architecture at Gdansk University of Technology. "Usual evening" is his first production. He currently works on his second film "Klakson".