The Small Cinema * Saturday (August 1, 2009) * 2:00 p.m.
The Small Cinema * Saturday (August 8, 2009) * 12:00 p.m.
Ciao Tesoro/Bye Bye Darling, Italy (IT) 2008, colour, 11 min.

PREMIERE

dir Amadeo Procopio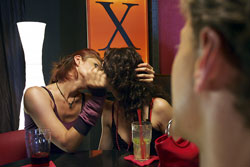 Night club...Dancer with the golden veil performs belly dance... Two acrobat bartenders... A man who seems to be very upset makes an offer to two women watching the performance. He proposes that one of them sleeps with him within an hour...

What's the end of this story?


Amadeo Procopio
He lives in Milan. He graduated from DAMS–Italian academy of arts, film and theater. He took his first professional steps working in TV and in commercial business. He made a few short movies. "Hi, baby" is his first movie shot on 35 mm film reel.