Epidemic of Love. Summer of 44
The Small Cinema * Saturday (August 1, 2009) * 10:00 a.m.
Epidemic of Love. Summer of 44, Poland (PL) 2009, colour, 49 min.

dir Maciej Piwowarczuk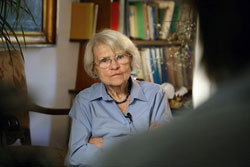 Browsing through statistics from time of the Warsaw Uprising one can find information, that during that time there were 256 celebrated marriages. Film tries to find an answer what motivations where driving people' s feelings during that time.


Maciej Piwowarczuk
Film director, scriptwriter, producer. Author of documentaries "Przebaczamy i prosimy o przebaczenie" (We forgive and ask for for- giveness), "Pamięć i tożsamość" (Memory and Identity).