Small Market Square * Friday (August 7, 2009) * 9:00 p.m.
Canada (CA) 2009, colour, 12 min.

dir Denis Villeneuve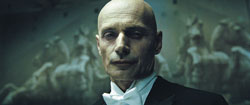 During an opulent and luxurious banquet, complete with cavalier servers and valets, eleven pampered guests participate in what appears to be a ritualistic gastronomic carnage. In this absurd and grotesque universe, an unexpected sequence of events undermines the endless symphony of abundance.


Denis Villeneuve
He has rapidly achieved both public and critical attention for films showcasing his powerful and distinctive cinematic voice. His first two feature films "32nd Day of August on Earth" and "Maelström" were screened to critical acclaim at many international festivals.