PGE Cinema * Monday (August 3, 2009) * 5:00 p.m.
Aruitemo, Aruitemo / Still Walking, Japan (JP), colour 114 min.
dir Kore-Eda Hirokazu pro KATO Yoshihiro TAGUCHI Hijiri sc Kore-Eda Hirokazu ph YAMAZAKI Yutaka mus GONTITI ed Kore-Eda Hirokazu cast Abe Hiroshi, Natsukawa Yui, You, Takahashi Kazuya, Kiki Kirin, Harada Yoshio dis Celluloid Dreams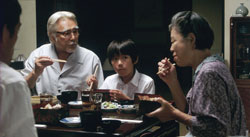 A son and a daughter of aging parents return for a rare family reunion, bringing their own families with them. They have gathered to commemorate the tragic death of the eldest son, who drowned in an accident fifteen years ago. Although the roomy house is as comforting and unchanging as the mothers homemade feast, everyone in the family has subtly changed. With a subtle balance of gentle humor and wistful sorrow, Kore-eda portrays just how precious and exactly how annoying, family can be.

Presented at San Sebastian Film Festival 2008.

Awards: Mar del Plata IFF 2008: Best Film, ACCA Jury Prize; Asian Film Awards 2009 (best director).

Trailer: see

Kore-Eda Hirokazu (1962)
Originally intended to be a novelist, but after graduating from Waseda University in 1987 went on to become an assistant director at TV Man Union. His first feature "Maboroshi no hikari" (1995), won jury prize at Venice IFF.