PGE Cinema * Wednesday(August 5, 2009) * 7:00 p.m.
Germany (DE) 2009, colour, 93 min.

PREMIERE

dir Lars Jessen pro Florian Koerner von Gustorf, Michael Weber, Schramm Film sc Norbert Eberlein ph Michael Tötter mus Jakob Ilja ed Sebastian Schultz cast Cecil von Renner, Ole Fischer, Pit Bukowski, Daniel Michel dis The Match Factory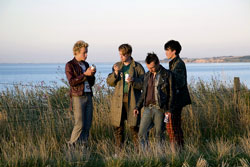 Summer of 1984. Malte Arens is 17 years old and lives on a farm together with his liberal parents. He is in the middle of ceramics apprenticeship and at the same time discovers punk music for himself. Night "alcoholic" discussions about music, interrupted by fights with other fellows living in close by farms, are the core of Malte's and his friends life. One day they get a brilliant idea how to pick up the girls and decide to create a punk music group. Inventing a name for the group ("Warhead") makes them already feel euphoric. In the meantime Malte meets Maria and falls deeply for her…

Presented at Berlinale 2009, section Perspektive Deutsches Kino.

Trailer: see

Lars Jessen (1969)
Graduate of history, political sciences and philosophy at the University of Cologne and film sciences on Academy of Media Arts in Cologne. He started his career in German TV. His first big screen movie titled "The Day Bobby Ewing Died" became a success and was screened in Cannes.