PGE Cinema * Thursday (August 6, 2009) * 9:30 a.m.
Luna / Moon, Soviet Union (USSR) 1965, colour, 51 min.

PREMIERE

dir Pavel Klushantsev pro Pavel Klushantsev, Leningrad Popular Science Films Studio sc Pavel Klushantsev ph A. Klimov mus A. Tshernov dis Lenfilm Studio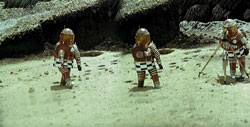 Russian cinema has an inspired tradition of fantastic filmmaking, drawn equally from modern technology and ancient folkloric traditions, and resulting in a treasure trove of cult classics. In the cold-war era and then throughout the age of Sputnik and beyond, sci-fi elements dominated, more than a decade before 2001, visual-effects pioneer Pavel Klushantsev created stunning visions of man's voyage to outer space. In 1965 Klushantsev created film 'Moon", part documentary about the Soviet Union first landing on the Moon. This was a very entertaining presentation of the Space race in the 50's and the 60's. The original public release in Soviet Union was cancelled after Americans had landed on the moon.