The Small Cinema * Sunday (August 2, 2009) * 2:00 p.m.
Puławy * Friday (August 7, 2009) * 4:30 p.m.
All Anna's Little Lies, Poland (PL) 2009, colour, 30 min.

dir Krzysztof Bizio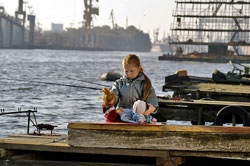 Anna leads a stabilized life as a geography teacher. In spite of appearances of happiness she feels that her life is incomplete, she feels cheated by the whole world and by her family and friends. She blame her husband, parents and herself for empty life full of little lies and misunderstandings.


Krzysztof Bizio
Dramatist, prose writer, architect. He wrote several theatre plays ("Toxins", "Lament"), which were shown in Poland and abroad. He is a TV script writer and radio plays writer. He also writes feature film scripts ("0_1_0"). In 2007 he graduated from Andrzej Wajda Master School of Film Directing.