Dona Flor and Her Two Husbands
The castle in Kazimierz Dolny * Sunday (August 2, 2009) * 10:00 p.m.
PGE Cinema * Wednesday (August 5, 2009) * 9:00 a.m.
Dona Flor e Seus Dois Maridos/Dona Flor and Her Two Husbands, Brazil (BR) 1976, colour, 110 min.

dir Bruno Barreto pro Luiz Carlos Barreto, Newton Rique Carnaval Unifilm, Luiz Carlos Barreto Produções Cinematográficas sc Bruno Barreto, Eduardo Coutinho, Leopoldo Serran based on the novel by Jorge Amado ph Murilo Salles mus Francis Hime, Chico Buarque de Hollanda mon|ed Raimundo Higino cast Sonia Braga, José Wilker, Mauro Mendonça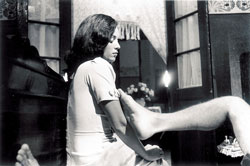 Dona Flor, performed by Sonia Braga, who was raised by conservative mother in a religious manner, marries Vadinho. He is local womanizer, rioter, gambler and frequent visitor of brothels. Despite his dark side Vadinho manages to wake passionate woman in Dona Flor. When he dies, she remarries and this time it's quiet, pedantic pharmacist Teodoro. Secretly she misses her first husband. One night her longing makes Vadinho reappear to her.