The Small Cinema * Sunday (August 2, 2009) * 6:00 p.m.
What The Doctors Say, Poland (PL) 2009, colour, 24 min 27 sec.

dir Michał Wnuk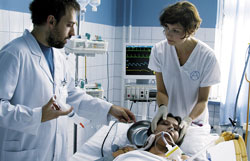 18 years old, 168 cm high, 49 kg, no diseases, no addictions – this is an ideal organ donor. Dr Wilk, anesthesiologist, on the verge of professional burning out, is about to declare death of 18 years old girl who committed suicide. Girl's mother, self-confident, but distrustful as far as doctors are concerned, won't let on any routine action.


Michał Wnuk
He graduated from the Silesian University, Radio and Television Faculty (specialization directing). He worked as an assistant and second director of some features. He received scholarship of French Ministry of Foreign Affairs (Paris 2005) and Nipkow Programm (Berlin 2007).