The Small Cinema * Monday (August 3, 2009) * 2:20 p.m.
Poland (PL) 2008 colour-b&w 17 min.

dir Bartosz Blaschke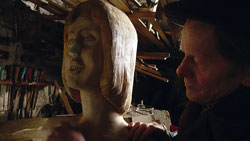 It is a portrait of the old sculptor, Bogdan Zietek. This self-educated artist has been creating the real-size women sculptures for over 40 years. His whole house is filled with sexy pin-up girls made out of lime-tree. Sometimes they become alive and talk to the artist.


Bartosz Blaschke (1974)
He graduated from Cinematography Department of Film and Television School (University of Silesia in Katowice, Poland). He is a director, director of photography and writer of short feature films, documentaries, commercials and music videos.