The castle in Janowiec * Monday (August 3, 2009) * 9:00 p.m.

Ukraine (UA) 2008,7 min 24 sec.

dir Dmitro Kolosow pro Studio animacji Czerwony pies sc Anna Walensab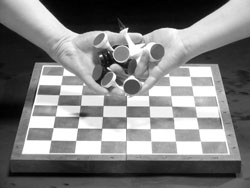 He and she. Is love like chess match and can you predict all moves of your "adversary"? Where does this game leads to?