The Small Cinema * Sunday (August 2, 2009) * 12:30 p.m.
Resolution, Russia (RU) 2008, colour, 15 min.

PREMIERE

dir Paweł Oresznikow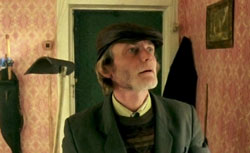 A day in the life of a small Russian village where one man's frustration with disrespecting neighbors forces him to see his life from a different angle. He attempts to take matters into his own hands and makes a life-changing resolution. Will his resolution make any impact on the rest of the villagers?

Presented at Locarno International Film Festival 2008.


Paweł Oresznikow
He was born and raised in Leningrad, USSR to a family of fine artists. In 1991, he entered the VGIK State Film Institute in Moscow. Due to his financial necessity and Russia's social instability, he left for New York City. He worked there successfully in many capacities - as a carpenter, sculptor and artist. In 2002, he became involved in television production for New York cable access TV shows. Currently he is engaged in script development for a full-length feature film.