Snow White and the Russian Red
PGE Cinema * Tuesday (August 4, 2009) * 6:15 p.m.
Snow White And The Russian Red, Poland (PL) 2009, colour, 108 min.
dir Xawery Żuławski pro Jacek Samojłowicz sc Xawery Żuławski ph Marian Prokop mus Jan Komar, Filip Kuncewicz, Jarosław Karczmarczyk ed Krzysztof Raczyński cast Borys Szyc, Roma Gąsiorowska, Sonia Bohosiewicz, Maria Strzelecka, Anna Prus, Ewa Kasprzyk dis ITI Cinema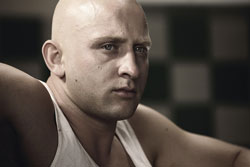 "(...) The film takes place in Poland in the present day, and is told through the imagination of the eighteen year old writer. She creates our main protagonist, a 20-something year old male. A man with no past, no future living only in the present world created by the author. The only thing he knows is that the love of his life, Magda has left him. But…. if you where to ask him who this woman is, he would not be able to tell you. (...)The book and film are a rebirth of the finest traditions of Polish literature from the past century, writers such as Witold Gombrowicz and Stanislaw Witkiewicz, who brought to life the use of satire and surrealism to express the nature of Polish mentality in the past".

Trailer: see

Xawery Żuławski
Debuted in 2006 with the feature film "Chaos" which he also wrote. For this feature he was named the Best Debut Director at the Polish Film Festival in Gdynia. He also received the main prize at the debut film festival "The Young and the Film" in Koszalin.