PGE Cinema * Friday (August 7, 2009) * 7:30 p.m.
Operation Danube, Poland-Czech Republic (PL-CZ) 2009, colour, 104 min.

dir Jacek Głomb pro Włodzimierz Niderhaus sc Jacek Kondracki, Robert Urbański ph Jacek Petrycki mus Bartek Straburzyński ed Jiři Brozek cast Eva Holubová, Jiří Menzel, Maciej Stuhr, Maciej Nawrocki, Zbigniew Zamachowski dis Monolith Films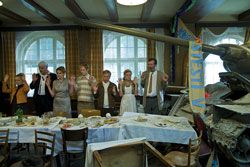 Tragicomedy, which takes place during Warsaw Pact invasion of Czechoslovakia, 1968. Crew of a Polish tank named "Little Ladybird" gets lost during fights. Its members end up in a Czech border town, where tank "parks" in the local inn.

Trailer: see

Jacek Głomb (1964)
Director and manager of the theatre. Since 1994 manager of the Helena Modrzejewska Theatre in Legnica. "Operation Danube" is his film debut.