Puławy * Tuesday (August 4, 2009) * 7:00 p.m.
Small Market Square * Friday (August 7, 2009) * 9:00 p.m.
Frygtelig Lykkelig / Terribly Happy, Denmark (DK) 2008, colour, 95 min.

dir Henrik Ruben Genz pro Thomas Gammeltoft, Tina Dalhoff sc Gry Dunja Jensen, Henrik Ruben Genz ph Jørgen Johansson mus Kaare Bjerkø ed Kasper Leick cast Jakob Cedergren, Lene Maria Christensen, Kim Bodnia, Lars Brygmann, Anders Hove, Jens Jørn Spottag, Henrik Lykkegaard, Peter Hesse Overgaard dis Syrena Films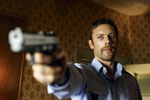 Robert, young policeman from Copenhagen, is disciplinary moved to the small town in South Denmark. Mud, cows and rubber boots – what else can a big city policeman expect from the gloomy town situated by the swamp. It turns out however, that seemingly quiet and peaceful place hides secrets... According to town's citizens, crime fighter should like drinking beer, playing cards and above all to be local, because here, newcomers, who don't fit, sooner or later will disappear. Peace of the town is guarded by a priest, shop owner and a doctor, who has a cure for every problem.

Trailer: see

Henrik Ruben Genz (1959)
Film director, scriptwriter. His diploma film "Omveje" received Best Script and Best Film awards at the Munich International Festival of Film Schools. Short film "Bror, min bror" (1998) received Berlin's Cristal Bear and Oscar nomination.