Puławy * Sunday (August 2, 2009) * 7:00 p.m.
Canada (CA) 2007, colour, 101 min.

PREMIERE

dir Richie Mehta pro Steven Bray, David Miller sc Richie Mehta, Shaun Mehta ph Mitchell Ness mus Dr. Shiva ed Stuart A. McIntyre cast Rupinder Nagra, Naseeruddin Shah, Seema Biswas, Koel Purie, Vik Sahay, Roshan Seth, Tanisha Chatterjee, Siddhant Behl dis Epelpol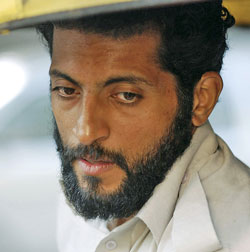 Poor, but righteous ricksha driver, Amal, works in New Dehli and does his best to deliver his clients fast and safely to their destinations. Some day he helps a man who seems to be homeless. The man turns out to be an ageining billionaire, who touched by Amal's heart and his humbleness, leaves him by his will his whole estate. This unexpected event consider- ably changes life of ricksha driver. He must now face totally new challenges...

Film was awarded at the Toronto International Film Festival in 2007.

Trailer: see

Richie Mehta
Canadian film director and scriptwriter. Mehta's films to date – "Amal" (the short film) and "System Of Units" - have screened and garnered him much acclaim and numerous awards around the world at film festivals such as Telluride, Palm Springs International Film Festival, Montreal International Film Festival, and the London International Film Festival.