The Small Cinema * Wednesday (August 5, 2009) * 2:00 p.m.
My Future, Belgium (BE) 2008, colour, 50 min.

PREMIERE

dir Lieven Corthouts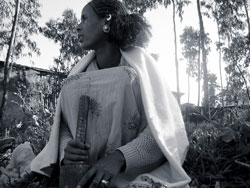 Hagere Selam, a small village in the northern highlands of Ethiopia. The students of 10 th grade just finished their final exam. The result will be so important that it will change their lives. If they pass, they can go to the city of Mekelle to continue to learn. But they have to wait up to three months before they will know their result.


Lieven Corthouts
Lives already for 7 years in Ethiopia, one of the results is this intimate and personal film about his neighbor in a remote village in Ethiopia. "My Future" is his first film. He's never been to any film school.